About H.O.M.E.
The basis of H.O.M.E's philosophy is the unique CARES approach that governs ALL aspects of the business. It is this approach that sets H.O.M.E. a part from others in terms of reputation for service and quality. It is a holistic, innovate position that is encompassed of five central tenants:
Community
Attention
Reputation
Education
Service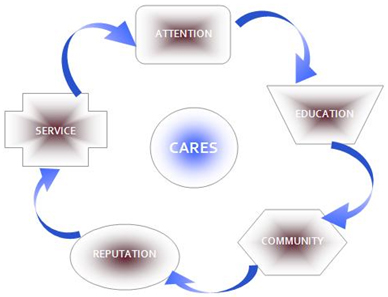 ---
A Team of Medical Professionals
Your health is too important to trust to anonymous online providers or part-time employees at the big-box stores. Our caring and qualified staff of over 20 professionals includes Respiratory Therapists, RN's, HME Consultants, Certified Mastectomy Fitters and Certified Orthopedic Bracing Fitters. Our staff members have an average of 25 years of experience and participate in continuing education each year to stay on top of the latest advances in the health care world.
What We Offer
Community is a concept that H.O.M.E. takes seriously. By living and working in our communities we are servicing our friends, neighbours and their families. As such all H.O.M.E. employees must service all clients with the same respect and dignity we afford to our family, friends and neighbours.
H.OM.E.'s employees and management donate significant resources to these causes in the way of monetary/material donations, sponsorship, equipment and volunteer time. H.O.M.E. encourages ALL employees to get involved in local community associations/groups.
Some of community organizations H.O.M.E. supports include:
The Alzheimer's Association
Community Care
The Cancer Society
Multiple Sclerosis
Easter Seals
Multiple sclerosis
The Lindsay Boys and Girls Club
Five Counties Children Centre
Women's Shelters
Ross Memorial Hospital
Police Association
Kinsmen Club of Lindsay
Loyal Order of Moose
Lindsay Boys and Girls Club
H.O.M.E. employees are committed to exceed expectations and always "go the extra mile" for our clients. Our superior reputation is gained through providing only the most up-to-date current equipment/products, hiring the most qualified staff, ongoing continuing education for all staff, in addition, making certain that safety and client needs are always paramount. Education about products, proper usage technique and safety concerns are key to effective use of equipment/products. This training is accessible to all staff, consumers, family, caregivers, support staff, health care professionals and even students.
The following is a list of current educational topics taught by H.O.M.E.
Manual and Power Wheelchairs
Scooters
Wheelchair seating
Walkers
Lift Chairs
Patient Lifting Techniques/Transfers
Power and Manual Patient Lifts
Daily Living Needs / Bathroom Safety
Pressure Relief Surfaces
Bed Alarms/Restraints
Braces/Medical Compression Stockings/Mastectomy Products
Home Oxygen / Respiratory Equipment
Rules for Assistive Devices Programs
Homestead Oxygen & Medical Equipment Inc., are members of:

Our Services
Our team of friendly experts is here to assist you in finding the right equipment to keep you safe.
Manufacturers
View a list of the manufacturers that we work with.